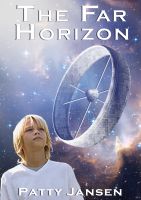 Time for another neo-pro interview, this time with Patty Jansen.
Q: Who are you?  What's your genre/history/etc?
Patty: I'm Australian (please allow for funny spelling), and I have at various times in the past been an agricultural scientist, librarian, non-fiction author, non-fiction bookseller and I'm also a mother of three teenagers. I write a lot of different subgenres within speculative fiction and have been known to write some mainstream fiction. Every time I think I'm completely swaying to one subgenre, I get the itch to write something totally different. That said, I am now no longer too shy to admit that my first love is realistic space-based hard SF and that I am a great fan of space opera, especially the type that considers sociological and economic aspects and the tensions they create on people in a strange environment. In fantasy, I enjoy anything that uses fresh and believable settings and concepts.
Q: What's your Race score?
Patty: Funnily enough, I've stopped obsessing over how many submissions I have out. There are a number of venues where I don't submit as frequently anymore, because I have other venues to send my stories, and those venues are hanging onto my work much longer than before. I tend to plan the submission path of each story much better, and don't have so many stories out anymore.
Q: When did you "get serious" about being a writer?
Patty: I started writing seriously in 2004, after my father died of cancer, while there were still so many things in life he wanted to do. I had done some writing in high school and the first years at university, but then a relationship, work and kids played havoc with my time. I started writing again for myself in 2003, and met a friend through another interest who also wrote fiction. She was the first person to make me aware of the existence of critique groups. I joined SF-OWW in December 2004, the date I take as the start of my serious writing efforts. I was there for four years. SF-OWW is wonderful. It is the first place I'd advise a new writer of SF/F to go.
Q: What are your goals with your writing?
Patty: My goals? *Laughs* To have stories accepted in all the major magazines I enjoy reading. On top of that, to publish some novels. Will that happen? I think it the first probably looks increasingly likely. I've cracked Redstone SF, as they will be publishing 'Party, with Echoes' in May. The second aim… I don't know, that is if you consider traditional publishing. I think the market is very much in a state of flux, and I have arrived at the wrong time, and am preparing to take my novels to Smashwords and Amazon, where I already have some works up. Times have changed, and while big publishers are hanging on by their fingernails and not investing much in new writers, if at all, small publishers are going broke, leaving writers in all sorts of contractual mess. I have been offered my share of poor contracts by small presses, and I think I can do better myself. Will I ever bother going back to trying to get an agent? Maybe if I hit the big-time. For now, I don't care much. I'm selling my own stories, and employing my own designers and proofreaders. I quite like it like that. I was able to join SFWA on the back of my short fiction sales. I feel I don't need the validation of an agent. I want to try doing my own thing. I've done it before, in non-fiction.
Q: Where do you see your career in 5 years?
Patty: I really don't want to make predictions. I write because I enjoy it, and I take my writing where I can sell it. I'd like to have some income from writing that justifies me continuing with it, and that pays for the occasional con attendance, but beyond that, we'll see.
Q: Do you have a particular story or idea you are dying to write? Or, if you could write a tie-in to any established universe/franchise, what would it be?
Patty: I've done quite well with my hard SF stories, but would dearly like to write a cracking good hard SF novel that sets space travel and colonisation in a modern light where the reader feels it could actually happen (in other words, with minimal 'magic' technology). Of course such a setting needs a story, and I have a cracking good story, but in the process of research (it involves interstellar travel), my desk has become buried in astronomy books. It's all mightily interesting but sadly very distracting. Although the work has left me with some really good short stories. One day I will get my mind around writing that novel. It will be my aim to write hard SF with involved characters who have personalities and quirks and hates and real love lives. I want to write a book that not just hard SF buffs enjoy. I think that if His Name In Lights is anything to go by, I'll be able to do that.
Q: What are your hobbies outside writing?
Patty: Besides astronomy, and orchids, I play the flute. Like so many kids at school, I played the recorder. Unlike many kids at school, I kept doggedly going with it, until I had a collection of nice wooden concert recorders and had been playing for ten years. Then I gave it up halfway through university. Two years ago, I heard of a local music group starting a new concert band for lapsed musicians. It's great fun. The story of my musical life is very similar to what's happened to my writing. There was neither the time nor the mental headspace for music or writing when I had a full-time job and three children under five. This is the reality I see a lot of writers box up against. They have a baby, or two. They try to keep going, but after a year or two, they are exhausted and have to give up. To these people, I'd want to say: it's OK, it will come back.
Q: What's your writing process like?
Patty: One word: chaotic. One of the things I have found about the writing process is that there is no such thing as a writing process. Sometimes the setting comes to you long before the story, sometimes you have the characters sorted out, but the setting needs TLC, and sometimes you have a good story, but the characters don't yet click. Each of these eventualities needs a different approach. I'd describe myself as a pantser, but there have been occasions where I knew everything that would need to happen in the story, in which case I had an outline and was happy to follow it. But I'm equally happy to start a novel with a rough idea of how it should start and another rough idea of where the characters will be at the end, and just write random scenes and thoughts into a file. After I've done a number such disjointed drafts, I usually form an outline by performing a cut-and-paste and write the final rough draft. That's usually draft 5. When that is completed, there's only polishing to be done.
Q: What's been toughest about your journey so far as a writer?  How do you keep yourself going?
Patty: I don't think I've had it very tough, and to be honest, no one else here does. Writing is something we want to do, and if we want to do it, we have to set aside the time for it. If we don't want to do that, we should quit whining and take up lawnbowls or croquet. Rejections are tough but you get used to them. And I honestly don't feel I have the right to talk about tough when so many people out there don't have a choice about doing mindless jobs, or even have no jobs at all. Doing what you enjoy doing can't possibly be tough.
Q: Any tips or tricks you've figured out for improving your writing?
Patty: Don't get hung up about other people's 'don't' rules. Well, according to this advice, you can go ahead and break this one now. I think at some stage developing writers live under the illusion that there is some magic pill and that if only the writers took it, success would be guaranteed. According to whom you speak, that magic pill may contain a total absence of the word 'that', or 'was', or getting rid of passive language, or some or other writing rule that can be followed off a cliff. I would say: relax. Those rules are written by writing teachers trying to define what constitutes a confident, authoritative voice. And that's impossible to define, except to say 'I'll know it when I see it.' My advice is therefore to read a lot of those books and stories by recently-published award-winning authors. My advice would be to volunteer as slush reader. And join some form of writers group that involves other people commenting on your work, and vice versa.
Q: And finally, got anything you want to pimp? 
Patty: I have some fiction up on Smashwords: https://www.smashwords.com/profile/view/pattyjansen
I've recently added something I believe to be rare in fiction: a space-based SF book for younger readers. It's not just a kids story. 'The Far Horizon' was written with adults in mind. I don't know how many hours I've spent reading books aloud to my kids. I loved those books that had a hidden, higher level that engaged adults. Think movies like my favourite 'The Incredibles', which can be enjoyed on a pure action-based level by the kids, and on that plus a higher level by their parents. The Far Horizon is about a boy discovering a terrorist plot, but on a higher level it's about discrimination. I truly love that story.
The same works are also on Amazon, but keep in mind that Smashwords is much more friendly to the non-US writer.
Besides this, I always like to pimp my blog where I talk about writing and science.