Casimir Hypogean: Chapter Seven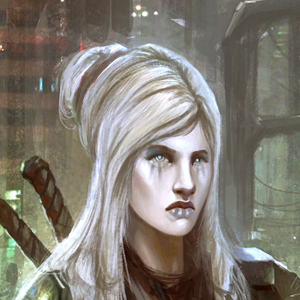 (Go here to catch up on previous chapters)
Chapter Seven
            Dr. Lucien Graeme had just come home from a mandatory ten hour shift at the Ijipe Morninglight Clinic and all he wanted to do was take a long, scalding shower and curl up in his bed and surf the Wires until he fell asleep.  He walked up the last flight of steps to his door, noticing the blood trail that slowly grew from droplets on the hallway floor to a ragged smear along one dingy blue wall outside his door.
It seemed there truly was no rest for the wicked.
Lucien's day job was as a surgeon for the city clinics, beholden to the Council and its dictates for his livelihood.  And while the pay was enough to survive on, it certainly didn't allow for Lucien's own expensive and often less than legal tastes.  The easiest way to afford his toys and the extra rations was to run his own clinic and go on being a doctor long after official hours were over.  Casimir had a seething underbelly of not quite legal people doing not quite legal things, and sometimes those things led to injuries that would be inconvenient to explain.
So he stitched up and patched up and medicated all sorts of criminals and in return got paid, sometimes in credits, sometimes in favors, most often in goods or services.  Lucien thought of himself as a very reasonable man.  He always found ways for his extracurricular clients to settle their debts.
The boy curled up in a ragged ball outside his door this time wasn't someone Lucien had seen before.  He stared up at Lucien with bruised-looking eyes too big for his thin face.  Not a boy, a man, but a skinny, unkempt one, clutching a satchel and a badly broken arm.
"You the doc?" the man said through chattering teeth.  Lucien recognized the signs of shock and wondered how far this idiot had come with that arm.
"Sure," he answered, unlocking his door.  The hallway was clear, his PUDI was linked into his private wires and monitoring the security system installed.  Lucien owned the entire floor of this section.  He liked his privacy and needed the space to hold all his specially acquired equipment.
He helped the man up, noting his dilated pupils and unsteady breathing as well as the thin film of sweat coating the guy's face.  Definitely in shock.
"I'm Dr. Graeme.  How'd you find me?"  Lucien asked as he half carried his patient through the foyer and into his after hours examination room.  It was highly unlikely this sucker was working for the Grey Guard or anything.  Even they wouldn't go so far as to give someone a compound fracture just to uncover an illegal medical practice.
"I'm Tom. A friend said, I mean," the man said, shivering. "I can pay.  Friend said you fixed up people who aren't on the official forms."
"Let's get an IV in you and set this arm, then we'll worry about payment," Lucien said in his best bedside doctor voice.
Tom seemed to relax at that, though he didn't want to let go of the satchel until he was assured it would just sit on the floor until the procedure was finished.  Lucien got him comfortable and pulled on gloves.  Everything was laid out in a neat, orderly fashion, but sometimes he missed having a competent nurse.  Too much risk, however, and a nurse would have to live in the flat to be any real use since his after hours clientele were erratic at best.
What he didn't tell Tom was that what he was adding into the IV would knock him out.  The man's thin face smoothed out and his jaw went slack as Lucien counted back slowly from fifty as he got his implements ready and assembled what he thought he'd need on a tray.
With his patient blissfully unaware, Lucien was free to examine the arm.  A hand-held x-ray imaging machine slowly scanned and loaded a picture of the broken arm.  The radius was the bone sticking out of the skin, and it was fractured into three pieces.  The ulna looked better, but had a nasty fracture as well with hairline spidering of the break all through the bone.  He'd lost a lot of blood as well but at least his tendons looked mostly undamaged.
A quick slide and check revealed blood type and Lucien started a bag going.  Tom's heartbeat was steadier now that he was on painkillers and unconscious.  Lucien took a deep breath and tucked his mask up over his nose, pinching the bridge.
It would be easiest to amputate the arm at the elbow.  Otherwise this would take a pin or two, a lot of stitches, and using one of the special breathable casts he'd acquired from the clinic.  Far, far simpler to just remove the damaged arm at the elbow.
Underneath the mask, Lucien smiled.  Simple was for hacks and quacks.  This arm was a challenge, and as tired as he was, he still couldn't resist the lure of putting something so broken back together again.
Besides, the man had said he could pay.  Amputation was so much cheaper than surgery.  Tom would pay, Tom would be grateful.  A little consideration now might yield unknown dividends in the future.  Small-minded men where the ones who didn't plan ahead, didn't seek longer term advantages.
Lucien's foot tapped the satchel as he pulled up his chair next to the examining table.  He made a mental note to go through the bag this man had clung to through all his pain and trouble, a bag that might have something to do with how his arm was crushed in the first place.  Later.  Now, now was the time to begin his latest masterpiece, now he would deal with this ruined arm and make it whole again.
* * *
            Sif figured whoever had come up with the design for these stupid Hunter-killer drones must have been the god of con artists.  The little drones were quick, but their hovering depended on magnetic forces, so their movements were simple to predict.  They also hummed a little, the kinetic motors creating an almost aural static that a normal human ear might have been able to track, but her ears did just fine.
The Hunter-killers also broke easily, not being designed at all for slamming into walls and floors at high speed.  Against a slow, stupid thief with no night vision, she could see the darts working. Maybe.  These drones were never going to have the chance to find out.
Using her PUDI as a mini-map for the building, Sif led the drones away from the stairs she'd sent Hex up.  There was another way to the roof from here if she went out a fire escape access point and she wasn't averse to a little climbing.  The hallways dumped into each other, one winding corridor after another, and she knew this was taking too long.  Hex would be well away by now, however, and the drones seemed to have given up pursuit.
She was nearly to the door when the whir warned her.  Sif dove to the side, dropping down.  A sharp prick stung her shoulder but she ignored it, twisting and rolling down the hallway in a half-tumble.  The murmur of the drone's motor located it for her and she was up again, kicking off one wall to gain height as she leapt and smashed the annoying thing into the concrete and plaster wall.  It lodged there, humming angrily.
Sif's arm started to go numb and she could almost feel her cells curdling and dying as the poison tried to invade her system.  With one hand she plucked the dart out of her shoulder.  It was thick and short with the dark gleam of the poison coving half its length, seeping out from the hollow center through invisible holes.  So tiny a thing.  She tucked in gingerly into a pocket in her belt.
It wouldn't kill her. Probably.  But it meant a detour on the way home.  She felt the familiar hunger in her blood.  She needed more Drift, she was burning through her body's resources too quickly doing everything she'd done tonight and, now, fighting off the poison.  There was nothing else for it.  She'd have to go see Lucien and barter something other than credits for his services and her drugs.
            With a grimace, Sif slipped out onto the fire ladder and into the neon-lit night.